TEX-MEX CASSEROLE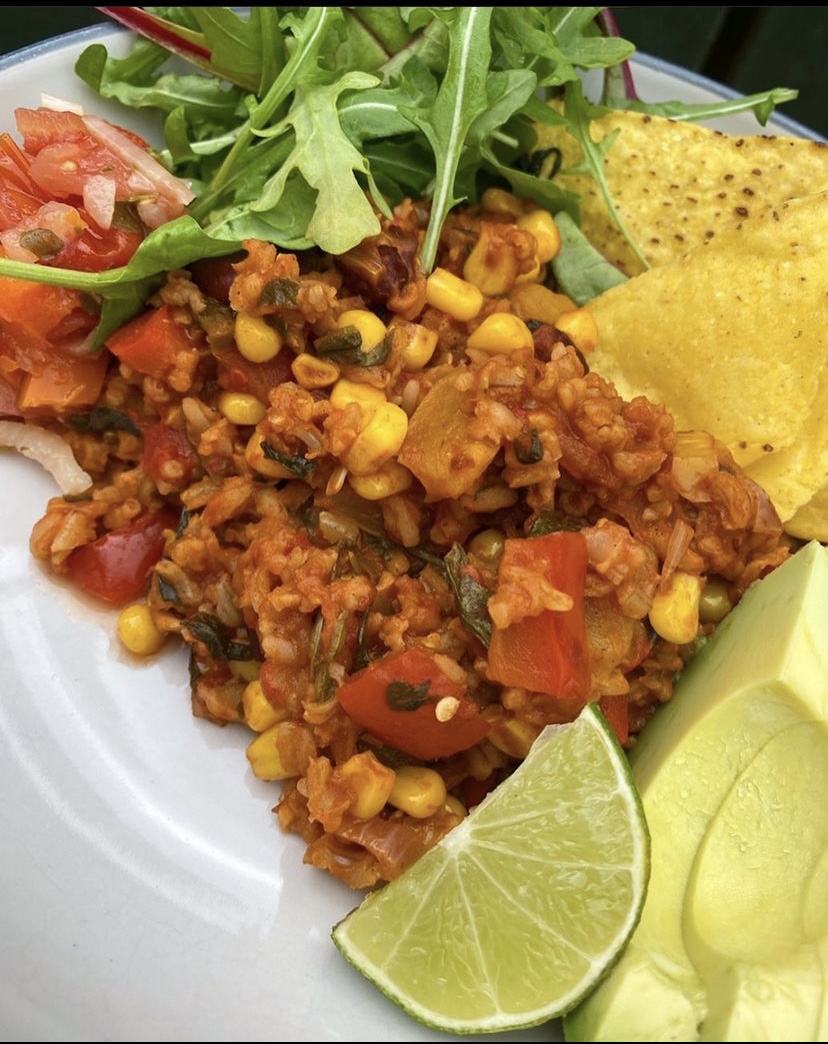 I vividly remember the first time I made this recipe, we had friends from Singapore coming to stay and their girls had allergies – this was waaay before we started our allergy journey with Jack so honestly, we were clueless! My usual dinner ideas went out the window, whatever I decided to cook would have to be free from gluten, dairy and soya…so what on earth would I make?! I remember feeling worried about being in charge of the dinner that night, what if I made a mistake?  What if they didn't like it or worse, what if I accidentally poured a whole bag of flour into the mix and made the girls sick?!   Yes, I might have been slightly irrational but I did feel a pressure and sense of responsibility that I had never felt before.
I searched the internet and my cook books and decided to amalgamate a few recipes and came up with this Tex-Mex Casserole and over the following years, as I've made it more and more, the recipe has become refined and quite frankly, delicious!
I love to prepare this recipe ahead of time, ready to bang in the oven after a busy afternoon.  It also keeps really well so we usually have leftovers for the lunch the next day.
This Tex-Mex Casserole is a total crowd pleaser, my family loves it – I hope you will too!
We'd love to see your version of this Tex-Mex Casserole and hear how you and your family enjoy it!  Tag us on social @the_juicing_co
TEX-MEX CASSEROLE
The low down
For the Tex-Mex Spice Blend, you'll need:
1 tbsp mild chilli powder
1 ½ tsp ground cumin
½ tsp ground corriander
1 tsp paprika
1 tsp fine Himalyan pink salt
For the casserole, you'll need:
Olive Oil
1 red onion, finely diced
4 cloves garlic, crushed
1 red pepper, diced
1 yellow pepper, diced
1 green pepper, diced
1 red chilli, finely chopped
2 cans chopped tomatoes
100g frozen corn
1 can black beans, drained and rinsed
600g cooked brown rice (approx. 225g brown rice before cooking)
200g vegan grated cheese (I use Violife)
200g spinach, shredded
Optional Accompaniments:  
Salted tortilla chips
Sliced avocado
Rocket or baby leaves
Fermented tomato salsa or regular salsa works well
Lime wedge
Homemade picked onions (I'll post the recipe soon)
Sauerkraut
The know how 
First, put the brown rice on to cook.  Weigh out approx 225g brown rice with approx 500ml freshly boiled water.  Bring the pan to the boil then reduce to a simmer for around 30 minutes or until the rice is soft to bite.
If you're making this casserole to eat shortly, preheat the oven to 200 degrees or if you are prepping to eat later on, skip this step for just now.
Next, go ahead and make the Tex-Mex Spice Blend in a small bowl by combining the spices.  Set aside.
Heat a drizzle of oil in a large cast iron casserole dish.  Add the onion, peppers, garlic and red chilli and sauté for around 8 minutes, until softened.
Stir in the Tex-Mex Spice Blend until the veg is fully coated.  Quickly add the tinned chopped tomatoes, black beans, frozen corn, cooked brown rice, grated vegan cheese and shredded spinach.  Stir until everything it's combined then season with salt and pepper.
Now the prep is done, cover the casserole dish with the lid and put in the oven for around 15 minutes until everything is bubbling hot and delicious.
Scoop the casserole into bowls and add your favourite toppings.
I love to serve this rice dish with some rocket, salted tortilla chips, avocado, lime and either homemade pickled onions, fermented tomato salsa or sauerkraut depending on what I have in the fridge that day, but feel free to mix it up and use what you have available to you.
Sit back and enjoy!
---